06.17.12
WYKKED WYTCH TOUR SHIRTS AVAILABLE
Now available while supplies last are the "ULTIMATE DECEPTION" Shirts from the 'Maximum Cavalera' Tour. Visit the STORE or click on the photo below to purchase the shirt:
We would also like to thank the whole SOULFLY family (SOULFLY, INCITE, LODY KONG0 & all the fans that came out to the shows this past April & May on the 'MAXIMUM CAVALERA TOUR'. It was a great experience and made a lot of new WW fans in the process. The tour was the first leg of US shows for Wykked Wytch supporting the new album ULTIMATE DECEPTION. Check back soon for upcoming shows and tour announcements.
03.28.12
WYKKED WYTCH ADDED TO SOULFLY TOUR
Wykked Wytch will be supporting the Soulfly 15th Anniversary Tour: MAXIMUM CAVALERA with SOULFLY, INCITE, LODY KONG this April / May all over the United States. Check out TOUR DATES for cities, more dates to be added soon. Come early because we are going on before the Cavalera Family!! We will be playing songs from our new album so come out a join us for some heavy shit!
02.14.12
WYKKED WYTCH RELEASE 'THE ULTIMATE DECEPTION' TODAY & STREAM NEW TRACK
The time has finally come. Female-fronted extreme metal band WYKKED WYTCH has unleashed their newest album, The Ultimate Deception, upon the masses. This Valentine's Day massacre is now available at iTunes and FYE. To coincide with the release of this beast, PureGrainAudio.com has teamed up with Goomba Music to premier an exclusive stream of the track "When the Sleepers Rise" at this location.   WYKKED WYTCH has also posted a stream of their uniquely extreme take on the METALLICA classic, "Fade To Black." The song can be accessed via SoundCloud at this location. The Ultimate Deception has been praised for "being both raw and intelligent piece of extreme music" (Metal-Temple.com) and was rated  "10/10" by Germany's Time-For-Metal.eu.

02.10.12
WYKKED WYTCH IS FEBRUARY BAND OF THE MONTH ON METAL MESSIAH RADIO
Metal Messiah Radio is celebrating the release of Wykked Wytch's new album 'The Ultimate Deception'by dedicating the month of February to the group. Wykked Wytch songs will be airing every day in February and there will also be prize giveaways. The station will also be airing 5 different specials throughout the month and interview with vocalist Ipek on Jet's Metal Magdalene on February 28th. www.metalmessiahradio.com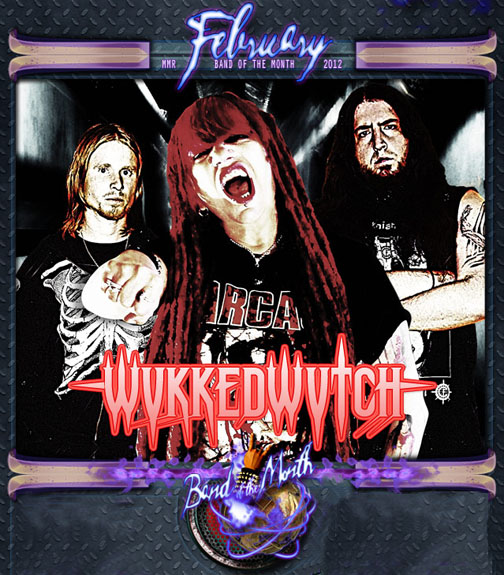 02.07.12
WYKKED WYTCH TRACK - "FADE TO BLACK" STREAMING AT BELOW LINK
Wykked Wytch's cover of the Metallica Classic "Fade To Black"! From the forthcoming album, "The Ultimate Deception"; In-Stores February 14, 2012!
Fade To Black by Goomba Music Wykked Wytch - "Despised Existence" by Goomba Music

01.16.12
WYKKED WYTCH TRACK - "DESPISED EXISTENCE" STREAMING AT BELOW LINK
Wykked Wytch - "Despised Existence" by Goomba Music

01.11.12
HAILS & HORNS DEBUTS NEW WYKKED WYTCH TRACK - "DESPISED EXISTENCE"
The track "Despised Existence" from the new Wykked Wytch album "The Ultimate Deception" is featured streaming at Hails & Horns Magazine website.
CLICK ON THE PHOTO BELOW TO LISTEN.

12.05.11
WYKKED WYTCH Signs To Goomba Music - The Ultimate Deception Artwork Revealed
Female-fronted extreme metal band WYKKED WYTCH has signed with Goomba Music for the release of their upcoming fifth full-length album, The Ultimate Deception.



Coming back strong off 2008's Memories Of A Dying Whore, The Ultimate Deception continues where the previous album left off and continues to push the boundaries of extreme music as well as the legacy of Wykked Wytch. The Ultimate Deception is scheduled for release on February 14th, 2012.

Led by the demonic vocal assault of frontwoman Ipek, Wykked Wytch is a female-fronted extreme metal band hailing from South Florida. The band blends a unique mixture of black, death, thrash metal with melody, technicality, and aggression to create their own signature sound which has gained them a strong cult following throughout the world.

Regarding the recent signing and forthcoming release, Ipek made the following comments, "We are very excited and proud to announce that Wykked Wytch has signed with Goomba Music for the release of our fifth full-length album The Ultimate Deception. Over the past two years we worked really hard creating a modern metal masterpiece and with Goomba behind us we will spread the word worldwide. We would also like to thank Mark & the crew at Goomba for this new partnership. It was the right choice for us and glad to know there is an experienced team of industry vets behind the label that respect the integrity of their artists. Look out for the new album The Ultimate Deception out in 2012 with lots of touring to follow!"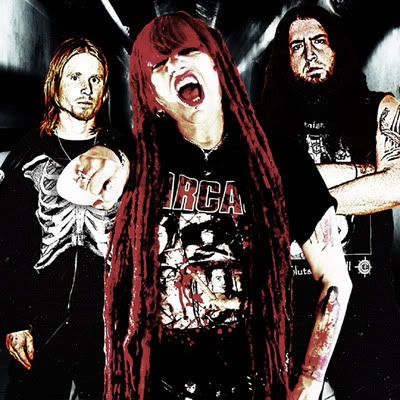 The Ultimate Deception marks the addition of lead guitarist / songwriter Nate Poulson to the group. Always determined to break new ground and discover new talent, frontwoman/founder Ipek has teamed with Nate, who composed nine badass tunes that add a whole new dimension and flavor to the band's constantly evolving sound. Taking a modern approach to the group's already established sound, the songs are heavy, technical, and melodic with each one standing on its own. Showcased on this release are vocalist Ipek's true abilities that drive the album.


Not afraid to take chances, Ipek doesn't hold back and has stepped out of her comfort zone; moving from death growls to high pitched screams to operatic, and clean catchy choruses in the course of a single song. The intense and insane vocals are performed by "one" woman, not three different vocalists.


Also featured is one of the best drummers in metal today, Kevin Talley (DAATH, SIX FEET UNDER, CHIMAIRA) who appears as a session musician compliments the songs with his killer double bass and blast work. The album was recorded in April/May 2011 at Lambesis Studios in San Diego, CA with amazing production from engineer Daniel Castleman (AS I LAY DYING, WINDS OF PLAGUE), who recorded & mixed. Finishing touches were handled by Alan Douches (THE DILLINGER ESCAPE PLAN, THE BLACK DAHLIA MURDER), who mastered at West West Side Music in New Windsor, NY.


Cover artwork was created by Marcelo Vasco (DIMMU BORGIR, THE FACELESS). The Ultimate Deception includes 10 tracks with a running time of 47 minutes - nine original tracks and a cover of METALLICA's 'Fade To Black'.


Check out a preview for the album below:




Wykked Wytch previously released a 50-minute video documentary from their Memories Of A Dying Whore 2009 European tour. Check it out below:



04.20.11
TRACKING COMPLETE FOR FIFTH ALBUM
Wykked Wytch recently completed tracking the fifth album now titled "The Ultimate Deception" last week at Lambesis Studios in San Diego, CA with engineer Daniel Castleman (As I Lay Dying, Winds of Plague).
The final mix will be completed in May with mastering by Alan Douches (The Dillinger Escape Plan, Mastodon) at West West Side Music in New Windsor, New York.
Vocalist Ipek comments: "We recorded 8 original tracks and 1 cover tune. These songs that Nate Poulson (guitarist,songwriter) composed are so explosive and challenging that I can't wait for everyone to hear it. Each track stands on it own and Nate really challenged me as an artist to leave my comfort zone and enter a whole new realm. Engineer Daniel Castleman was also a pleasure to work with and a great talent, you'll definitely be hearing his name for a long time. He pushed us to our limits to get the best performances out of us and the final product will show this. Also after going through several name changes for the album titled we decided on "The Ultimate Deception". As it stands now the album is such a refreshing and drastic rebirth I'm not sure if this album will be released under "Wykked Wytch" or as a new project. Stay Tuned!!"
In the coming weeks several webisodes from the studio will be posted on our FACEBOOK & YOUTUBE pages.
For now, several phone videos are available at www.facebook.com/wykkedwytch

03.05.11
UPDATE... DRUMS COMPLETE FOR NEW ALBUM
Wykked Wytch is finally about to give birth to it's masterpiece, the fifth-album tenatively titled "Serpents Among Us" that's been in the works for the past year is finally on its way to completion. New guitarist and songwriter Nate Poulson has put together Nine really killer bad ass tunes which are heavy, technical, & melodic. This mixed with over the top vocal performance of frontwoman Ipek and drums performed by Kevin Talley (Daath, Six Feet Under, Chimaira) promises to be an awesome release. Kevin was hired for the album and all the drums have been tracked and completed.
Later this month, Wykked Wytch will enter Lambesis Studios in San Diego, California with engineer Daniel Castleman (As I Lay Dying, Winds of Plague) at the helm.
Stay tuned for more album details: album guests, artwork, and summer tour dates.
In the meantime check out vocalist, Ipek's weekly radio show every Thursday night 9pm - 11pm EST "Ipek's Wytching Hour" on Metal Messiah Radio (www.metalmessiahradio.com). Archived shows can be found on www.ipekswytchinghour.podomatic.com (past interviews with Phil Anselmo, Kirk Windstein, Vrangsinn, Marc Rizzo, Johan Liiva, etc.)
Also the Wykked Wytch website and all official sites: myspace, facebook, youtube, etc. are getting a major re-design to coincide with the album's release in early summer.