12.05.10
IPEK'S WYKKED HOT SAUCE NOW AVAILABLE!
Just in time for the holiday season Wykked Wytch fans can purchase Ipek's Wykked Hot Sauce. Designed because of Ipek's love for the hot & spicy. She could never find a sauce that was hot enough for her and is never satisfied with the store bought variety. Finally a formula that does the trick, Wykked Hot Sauce is extremely hot for the extreme metal fan.
Let Ipek invade your kitchen and burn your ass with this original Louisiana Hot Sauce Recipe. Made in the USA.
Makes a perfect stocking stuffer and only available at WYKKED WYTCH ONLINE STORE.
Click here to buy now.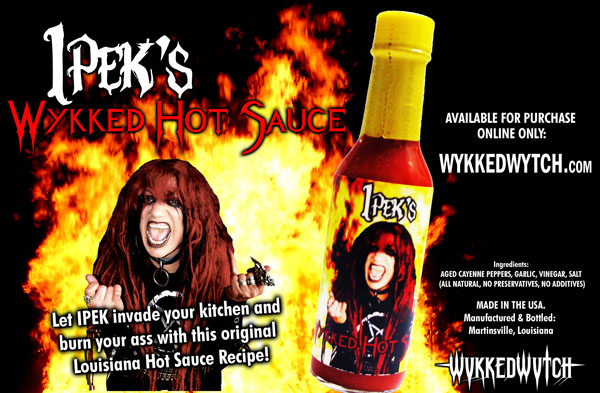 More Flavors to become available in the 2011: Habanero, Jalapeno, & Eat My Bloody Chicken Wing Sauce.
Also we are running special till Dec. 31. Buy 1 Item and get 1 Free, send email to wykkedwytch@aol.com after purchasing to confirm free item. (Free Item equal or lesser value)

09.29.10
METAL QUEENS BOOK / VRANGSINN INTERVIEW
Vocalist Ipek of Wykked Wytch has been chosen to be the cover model for the book "Metal Queens: Best of The Bands" from author Armand Rosamilia. The book is now available for purhcase at the following location:
http://www.lulu.com/spotlight/ArmandRosamilia
"Metal Queens: Best Of The Bands" features 19 Interviews taken from the first six issues of the "Metal Queens" eBook series Bands including Arch Enemy, Vixen, Girlschool, Echoes of Eternity, Holy Moses, Queen Diamond, Battlelore, Wykked Wytch, Seven Kingdoms, and more!
Ipek will also be interviewing Carpathian Forest bassist Vrangsinn on tomorrow's episode of Ipek's Wytching Hour. Only on Metal Messiah Radio.
SHOW TIMES:
THURSDAY SEPT. 30- 9PM TO 11PM EST

TUNE IN TO WWW.METALMESSIAHRADIO.COM
06.14.10
IPEK INTERVIEWS RICHARD CHRISTY
Ipek will be hosting a special two-part interview with Richard Christy of Charred Walls of The Damned
over the next two weeks on Ipek's Wytching Hour only on Metal Messiah Radio.

These special edition shows will be dedicated to the music of Charred Walls of The Damned
& the all-star lineup's other projects: Iced Earth, Death, Burning Inside, Judas Priest, Sadus, Crotchduster, & more.
SHOW TIMES:
THURSDAY JUNE 17TH - 9PM TO 11PM EST
Part 1 of Interview.
THURSDAY JUNE 24TH - 9PM TO 11PM EST
Part 2 of Interview.
TUNE IN TO WWW.METALMESSIAHRADIO.COM

06.10.10
WW ANNOUNCE NEW MEMBERS
Finally the search for new guitarist and drummer is over.
Thanks to all those that reponded to our ad.
After several false starts and delays the writing is underway for the fifth album.
We are proud to announce the addition of Illinois based guitar player
Nate Poulson as lead guitarist/songwriter to Wykked Wytch.
His fresh ideas, creativity, and viciousness promise to make the new album the
best yet.
Also we welcome back after a 6 year absence Drummer Steve Brubaker.
He previously toured with Wykked Wytch and performed on the 2004 album "NEFRET".
Stay tuned for news on recording and album updates.
The fifth-album tentatively titled "Prayers Of The Decapitated" is scheduled for
late 2010 / early 2011 release.

05.19.10
IPEK'S TRIBUTE TO DIO ON METAL MESSIAH RADIO
Special Episode of Ipek's Wytching Hour - Thursday - May 20 - DIO TRIBUTE

Check out this Thursday's episode where I'll be paying tribute
to the metal godfather and one of my greatest idols "Ronnie James Dio".
This special show will celebrate his life and legacy with music from Black Sabbath, Dio, Elf, & Rainbow.
He may be gone but his music will last forever. Horns up!

Show: 9pm - 11pm EST on METAL MESSIAH RADIO
www.metalmessiahradio


05.11.10
WYKKED WYTCH SEEKING LEAD GUITARIST & DRUMMER
WYKKED WYTCH are currently holding auditions for a
permanent lead guitarist & drummer for new album and
future tours.
We are looking for individuals who can make a long term commitment to the band.
NOT looking for temporary or session musicians.
If interested in auditioning send a bio, photos, and links to
examples of your playing (audio and video clips).

Contact:
email: wykkedwytch@aol.com

05.03.10
IPEK DEBUTS WEEKLY RADIO SHOW
Ipek, frontwoman of Wykked Wytch will be debuting her weekly radio show "Ipek's Wytching Hour" this Thursday May 6, exclusively on Metal Messiah Radio. On the debut show Ipek will be paying tribute to Peter Steele of Type O Negative.
The weekly show can be found on MetalMessiahRadio.com Thursdays from 9pm to 11pm EST.

04.06.10
IPEK INTERVIEW FROM NAMM 2010
Wykked Wytch vocalist Ipek interviewed by Jose Mangin of Sirius / XM satellite radio's Liquid Metal at this year's NAMM (National Association Of Music Merchants) show, which was held January 14-17, 2010 at the Anaheim Convention Center in Anaheim, California. The chat originally aired as part of Dean Guitars' "Live from NAMM" webcast, can be viewed below.




02.25.10
NEW IPEK INTERVIEW @ EXTREMINAL.COM
NEW INTERVIEW WITH VOCALIST IPEK @ EXTREMINAL.COM

AVAILABLE IN ENGLISH & TURKISH:

http://www.extreminal.com/extreminal/tr/..roportaj.asp?id=303 - TURKISH

http://www.extreminal.com/extreminal/en/..roportaj.asp?id=223 - ENGLISH

01.25.10
WW ARTICLE - NAMM 2010 OC REGISTER
Wykked Wytch is featured in two NAMM 2010 related articles in the OC Register.

Click below

OC REGISTER - NAMM 2010 - ARTICLE 1
OC REGISTER - NAMM 2010 - ARTICLE 2




01.13.10
IPEK NAMM APPERANCE
WYKKED WYTCH vocalist IPEK will be appearing this week at the 2010 Winter NAMM show in
Anaheim, California January 14th - 17th representing NADY SYSTEMS.

All Wykked Wytch fans coming out to the show stop by to see Ipek and the WW crew at the NADY Booth!



12.10.09
IPEK FEATURED IN "UNDER THE SKIN" BOOK
Wykked Wytch frontwoman, IPEK is featured in "Under The Skin Of Rock & Roll", a new 388-page German-language book on tattoos and metal featuring 97 exclusive interviews and a number of never-before-published photos.

Click here to order via Amazon.de. (book is in German)

Musicians featured in "Under The Skin Of Rock & Roll" include:

Alan "Nemtheanga" Averill (PRIMORDIAL)
Andre Moraweck (MAROON)
Andreas Kisser (SEPULTURA)
Arkadius (SUIDAKRA)
Björn "Speed" Strid (SOILWORK)
Brent Smith & Nick Perri (SHINEDOWN)
Candace Kucsulain (WALLS OF JERICHO)
Christophe Depree (AFTER ALL)
Dani Filth (CRADLE OF FILTH)
Dero (OOMPH!)
Eike Freese (DARK AGE)
Gerre & Olaf (TANKARD)
Ipek (WYKKED WYTCH)
Jakob Batten (ILLDISPOSED)
Johannes Prem (DEADLOCK)
John Moyer & Mike Wengren (DISTURBED)
Jonne Järvelä (KORPIKLAANI)
Lennon Murphy (DEVIL'S GIFT)
Lizza Hasan (MASTERLAST)
Lord Ahriman (DARK FUNERAL)
Mangan Klavborn (ENGEL)
Marco Biazzi (LACUNA COIL)
Masha (EXILIA)
Matthew Heafy (TRIVIUM)
Miland "Mille" Petrozza (KREATOR)
Nige Rockett & Jeff Williams (ONSLAUGHT)
Paul Speckman (MASTER)
Pete Koller (SICK OF IT ALL)
Peter Iwers & Daniel Svensson (IN FLAMES)
Peter Tägtgren (PAIN)
Riggs (SCUM OF THE EARTH, ROB ZOMBIE)
Rob Dukes (EXODUS)
Roger Miret & Vinnie Stigma (AGNOSTIC FRONT)
Roland Johansson & Robin Sjunnesson (SONIC SYNDICATE)
Ross the Boss (MANOWAR)
Roy Mayorga (STONE SOUR, SOULFLY)
Ryan Clark (DEMON HUNTER)
Sabina Claasen (HOLY MOSES)
Ted Lundström (AMON AMARTH)
Tim "Ripper" Owens (JUDAS PRIEST, ICED EARTH)

For more information visit www.myspace.com/rockandtattoo



12.07.09
IPEK'S WYKKED METAL X-MAS ON METAL MESSIAH RADIO!
Ipek, frontwoman of Wykked Wytch will be hosting "IPEK's WYKKED METAL X-MAS" exclusively on Metal Messiah Radio. The hour long show will premiere on Christmas Eve & replayed on Christmas Day.

Join Ipek and her disgust for the holidays while she plays the metal.

CHRISTMAS EVE (Thursday, December 24 7PM EST)
CHRISTMAS DAY (Friday, December 25 12PM EST)

check out METAL MESSIAH RADIO for all your metal listening needs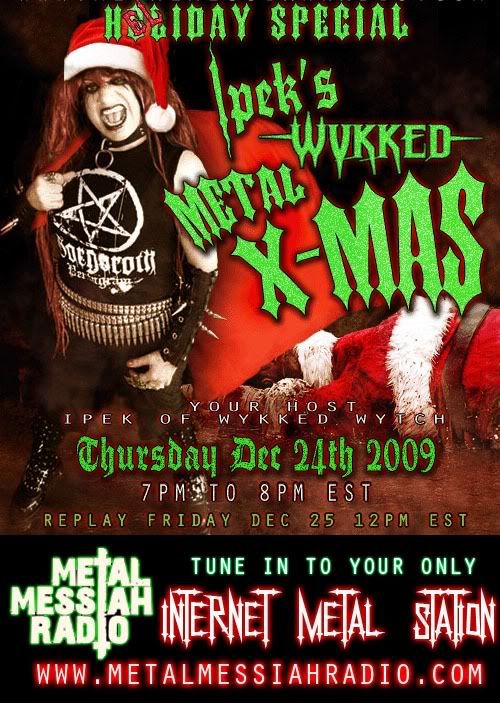 12.06.09
NEW T-SHIRT AVAILABLE NOW!
Now available for purchase - WW Pentagram Logo - T-shirt.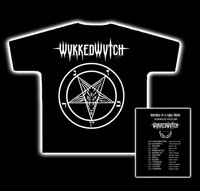 09.27.09
WW TOUR WRAP UP

Wykked Wytch has returned home from their European headlining tour.  We would like to thank all the fans, friends, bands, & promoters that helped make this
tour a success for us.

Even though we faced minor obstacles at the start of the tour (flight delays, van accidents, hospital visit, highway breakdown, & cancellations). These distractions that sucked at the time became part of the adventure and are fun to look back at.

The highlight of the trip was definitely Portugal's Ilha Do Ermal Festival -- 
a huge metal party that lasted 3 days in the wilderness of Portugal.
Also the shows in Germany, Switzerland, & Holland were awesome as well. 

Updated photos are now available on the myspace site and videos will be added soon.

The next couple of months will be focused on finishing up the writing process for the fifth album tentatively titled "Prayers Of The Decapitated" due out in 2010.

Stay tuned for new announcements.

08.18.09
WW OFFICIAL SITES LAUNCHED
Wykked Wytch is now on Facebook,Twitter & Ilike.
Click below for official sites.


WYKKED WYTCH FACEBOOK

WYKKED WYTCH ILIKE PAGE

07.12.09
WW ANNOUNCE EUROPE DATES
WYKKED WYTCH will embark on their first European headlining tour this August in support of their current album "MEMORIES OF A DYING WHORE". The tour will kick-off with an appearance at Ilha Do Ermal Festival in Portugal.

Support will come from South Florida's VIRULENTUS + local supports (TBA).

Confirmed dates:
MEMORIES OF A DYING WHORE - EUROPE TOUR 2009
AUGUST
29 - ILHA DO ERMAL FESTIVAL - VIEIRA DO MINHO, PORTUGAL **
31 - SALA HEAVEN D.C. - CACIEDO DE CAMARGO, SPAIN
SEPTEMBER
1 - ROCK SOUND - BARCELONA, SPAIN
2 - LE LOCAL - MARSEILLE, FRANCE
3 - MARMAJA LIVE CLUB - MILAN, ITALY
4 - AMALGAME CLUB - YVERDON, SWITZERLAND
5 - BOILER ROOM - REGENSBURG, GERMANY
6 - DIE HALLE - FRANKFURT, GERMANY
7 - TBA - GERMANY
8 - BALLROOM - HAMBURG, GERMANY
9 - THE FRONTLINE - GENT, BELGIUM
10 - TBA - NETHERLANDS
11 - LITTLE DEVIL - TILBURG, NETHERLANDS
(** Virulentus not appearing)

06.20.09
WW FEATURED ON METAL MESSIAH RADIO
WYKKED WYTCH are the "BAND OF THE WEEK" on METAL MESSIAH RADIO starting this Monday, June 22. The station will play a WYKKED WYTCH song every hour for a week!

IPEK, vocalist for WYKKED WYTCH will be the featured guest on METAL MESSIAH RADIO'S "The Metal Magdalene with JET" this Tuesday, JUNE 23 between 9pm to 11pm EST.
listen online: www.metalmessiahradio.com
www.myspace.com/metalmessiahradio

05.25.09
ILHA DO ERMAL FESTIVAL CONFIRMED / EUROPE TOUR
WYKKED WYTCH has been confirmed for the Ilha do Ermal festival, set to take place August 28-30 in Vieira do Minho, Portugal.

Portugal's biggest metal festival, Ilha do Ermal returns after a four-year hiatus with 45 bands (15 per day).

Confirmed acts so far are as follows:

ANGRA
BLIND GUARDIAN
CONCEALMENT
DARK MOOR
DESIRE
DISBELIEF
HATESPHERE
HEAVENWOOD
KORPIKLAANI
OBITUARY
ONE MAN ARMY AND THE UNDEAD QUARTET
PESTILENCE
PITCH BLACK
RAMP
SEPULTURA
SWITCHTENSE
TEXTURES
THANATOSCHIZO
THE FIRSTBORN
THE TEMPLE
W.A.K.O.
WYKKED WYTCH

For more information, visit www.myspace.com/festivalilhadoermal.

WYKKED WYTCH's appearance at the festival will be followed by a two-week headlining tour of Europe in September. Exact cities and dates will be announced soon.

04.08.09
CALIFORNIA METALFEST FOOTAGE & PICS
Performance footage of Wykked Wytch @ California Metalfest 3 has been posted on our youtube site: www.youtube.com/wykkedwytch. Click on the gallery section to view photos from the show.




03.16.09
WW MIAMI SHOW
Wykked Wytch will be performing a special warm-up show this Saturday at Churchill's in Miami before heading out to the west coast next week to perform at the California Metalfest with Carcass, Exodus, Suffocation, etc.

This is the first show with new members: Asmodeus (drums), Pat (guitar), and features the strongest WW lineup to date. If you are in the area be sure to check it out, may be awhile before we play locally again.



02.11.09
WW VOCALIST FEATURED IN BLACK METAL QUEENS BOOK
Wykked Wytch vocalist IPEK will be featured in the book Metal Queens: Black Metal Volume I Number III, available from Carnifex Press this March. Click here to pre-order your copy and also check out the official "Metal Queens" site www.myspace.com/carnifex_metal for more info on the book and past releases.

02.08.09
WW PERFORMING AT CALIFORNIA METALFEST!
Wykked Wytch will be performing at the third annual California Metalfest - Saturday March 28th as part of the mainstage lineup with Carcass, Exodus, Suffocation & many more bands. Check out: www.myspace.com/californiametalfest for more details. California fans this is your chance to come out and support the Wytch!
Stay tuned for several major band announcements!